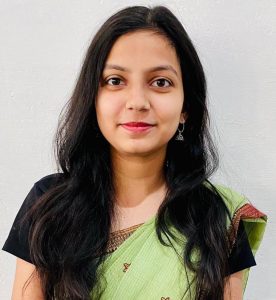 Name: Ms. Chinmayi Khare
Designation: Assistant Professor
Subject/Area: :English
Qualification: M.A. (English Literature),B.Ed.(Pursuing)
Contact: +919981556411
Email: chinmaykhare0025@gmail.com
St. Aloysius Institute of Technology, Jabalpur as an Assistant Professor in Dept of Arts w.e.f October 2020 to till date.
PARTICIPATED IN THE INTERNATIONAL WEBINAR ON 'ENGLISH FOR DIGITAL FLUENCY IN POST PANDEMIC ERA' ORGANIZED BY ST. ALOYSIUS' COLLEGE (AUTONOMOUS) , JABALPUR, MADHYA PRADESH ON MAY 24, 2020.
COMPLETED THE CERTIFICATE COURSE OF 'BASIC FRENCH' ORGANIZED BY THE ENGLISH DEPARTMENT OF ST. ALOYSIUS COLLEGE (AUTONOMOUS), JABALPUR, MADHYA PRADESH IN THE YEAR 2019.
ATTENDED THE WEBINAR ON 'METHOD IN HAMLET'S MADNESS: AN ANALYSIS' DELIVERED BY PROF. BASAVARAJDONUR (PROFESSOR AND HEAD, CENTRAL UNIVERSITY OF KARNATAKA, KALABURAGI) ON MAY 26, 2020.
ATTENDED THE WEBINAR ON 'DERRIDA AND DECONSTRUCTION' ORGANIZED BY DEPARTMENT OF ENGLISH, KRISTUJAYANTI COLLEGE, BENGALURU ON MAY 19, 2020.